FRESH & AUTHENTIC
international cuisine that is locally inspired
---
Enjoy an array of cuisines at Montage Los Cabos. Have a casual meal at Marea, the oceanfront bar and grill; an upscale dinner at Mezcal; a taste of Thailand at Talay; a quick grab-and-go bite from Paletas; breakfast of lunch al fresco at Twin Dolphin Club; or enjoy a meal prepared in your home by a personal chef.
MEZCAL - A MODERN
MEXICAN KITCHEN
---
Mezcal, our signature restaurant, is a modern-gastronomic journey featuring interpretations of Mexico's culinary heritage. Paying homage to history and culture, the tasting menu 'Mercados de Mexico' showcases the best markets and wines in the country serving re-imagined cuisine with sophisticated techniques.
FRESH AUTHENTIC CUISINE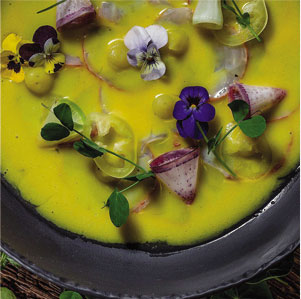 Explore the many flavors of Mexico in a lively, sophisticated atmosphere with stunning ocean views located in the heart of the resort.
LOCAL ORGANIC INGREDIENTS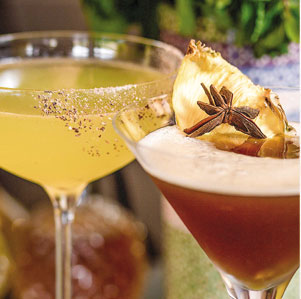 Whether dining for breakfast or dinner, experience truly gourmet Mexican cuisine at Mezcal. Savor favorite Mexican traditions including Motuleños, a Mexican breakfast egg and tortilla classic, or fresh caught Lobster Ceviche with local passion fruit.
CREATIVE SIGNATURE COCKTAILS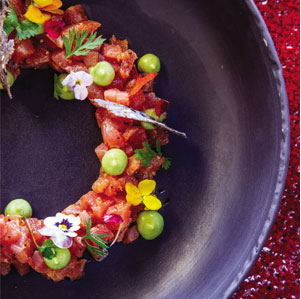 Explore a journey through the world of tequila and Mezcal or discover the Agave Experience, a sampler of some of Mexico's finest spirits, including tequila, bacanora and small batch artisanal mezcals that are still made the same way they were 200 years ago.
MAREA - A BEACHFRONT
GATHERING PLACE
---
On the shores of iconic Santa Maria Bay resides Marea, a beachfront gathering place with panoramic views of Sea of Cortez. By day, the Baja inspired cuisine features the finest locally sourced ingredients and offers a menu that is familiar yet authentic, ranging from a fresh aguachile to our signature Marea burger.
MAREA BY DAY MENUS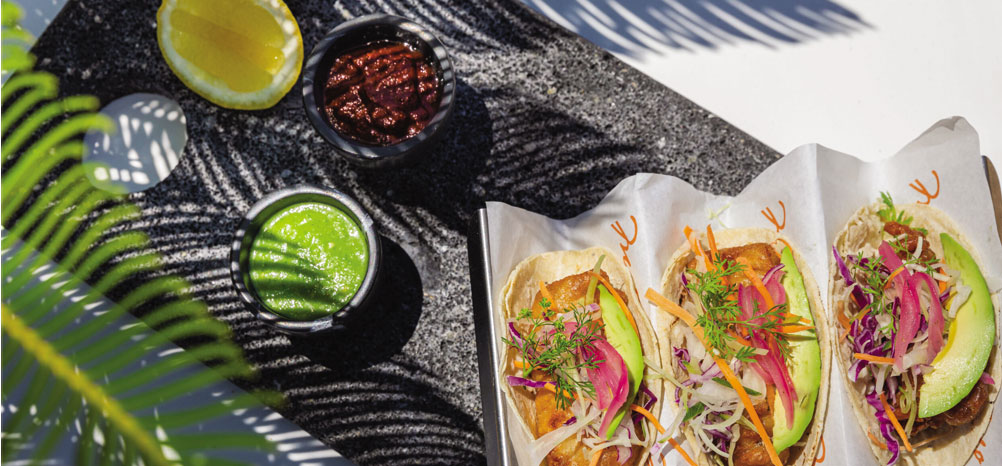 PALETAS
A FUN MODERN MARKETPLACE
A contemporary marketplace featuring Mexican sweets, sundries and coffees. Serving a wide array of options from freshly baked Mexican pastries to gourmet sandwiches. Indulge in a delicious hot chocolate or savor a traditional home-made paleta. In addition to the exquisite gourmet options, discover a creative mix of locally crafted gifts, artwork and apparel.
TALAY
A THAI STREET FOOD EXPERIENCE
Meaning "Sea" and inspired by its location, Talay is a "food truck" concept in an outdoor setting featuring authentic cuisine inspired by the street foods of Thailand.
Talay is open Wed-Sun from 6-10pm Closed Mon & Tues
Talay Menus
IN-ROOM DINING
IN-ROOM INDULGENCE
---
When your contemporary designed room and ocean view are too delightful to leave, sit back, relax and let us bring our culinary arts to you. Montage Los Cabos' in-room dining offers a first-class menu for breakfast, lunch, dinner, or late-night fare. Whether it's a morning espresso in bed or our signature Baja Fish Tacos while watching the beautiful sunset over the Sea of Cortez from your private accommodation. Monatag's in-room dining offers the ultimate indulgence.
Montage Los Cabos Gallery