Paddle Boarding Tour
Experience the thrill of Cabo paddle boarding with our invigorating Stand Up Paddleboarding (SUP) tour - the hottest new water activity that promises adventure and fun. While SUP demands balance, strength, and patience, our expert guides will have you gliding along the water sooner than you might imagine. Whether you're a beginner or an experienced paddler, our private paddle boarding tour in Los Cabos offers the flexibility to tailor the excursion to your preferences and comfort level.
Immerse yourself in the beauty of Cabo's coastline as you venture out on your paddle board, guided by our experienced instructors. This exclusive tour ensures a personalized experience, allowing you to set the pace and relish the moment. Feel a real sense of accomplishment as you stand up and conquer the gentle waves, creating unforgettable memories along the way.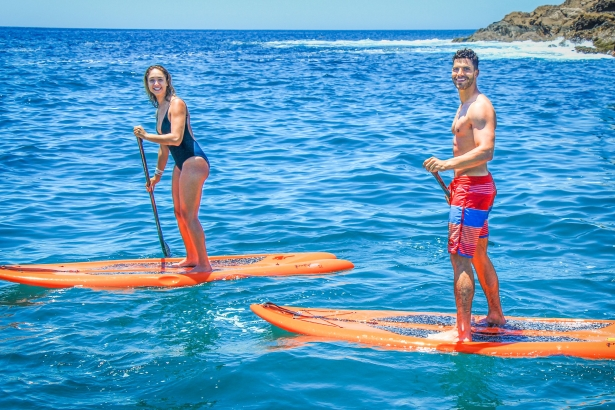 Tour Details
Approximate Duration: 2.5 hours
Departure Time: 7:30am - 1:00pm
Pricing
$95 USD per person
$128 USD per person for Private Tour (minimum 2 people)
Inclusions
All necessary equipment provided: Stand Up Paddle Board & Oar, Snorkel Gear, and Wetsuit (if needed).
Feel secure with a Life Jacket provided for your safety.
Expert guidance from our Bilingual Instructors to ensure a smooth and enjoyable experience.
Stay refreshed with complimentary Refreshments & Snacks during the tour.
What to Bring:
Come prepared with your own Beach Towel and Beach Sandals for comfort on and off the water.
Protect your skin from the sun with Sunblock, and don't forget a stylish Sun Hat and Sunglasses.
Restrictions
Minimum age of 6 to participate in this thrilling adventure.
Serene Paddleboarding Experience
Ready to embark on an exciting Paddle Boarding Tour in Cabo? Book now to secure your spot and be ready to embrace the beauty of the ocean as you stand tall on your paddle board.