Jet Ski Ocean Adventure:
Get ready to rev up your adrenaline on an exhilarating Jet Ski Ocean Adventure, led by our experienced instructors. Embark on a guided sightseeing ride that will take you on a thrilling journey along the iconic Arch and Lover's Beach aboard our speed boat. Feast your eyes on the enchanting attractions at Land's End and immerse yourself in the captivating coastal views of Los Cabos. Feel the rush of excitement as you ride our powerful jet skis across the bay, creating unforgettable moments amidst the abundant marine life. Keep an eye out, as you might even encounter Humpback whales during the winter months! Safety is our utmost priority, with a dedicated chase boat following you at all times.
After an action-packed day at sea, recharge your energy with a delectable grilled hamburger (vegetarian alternative available), served with french fries and refreshing drinks.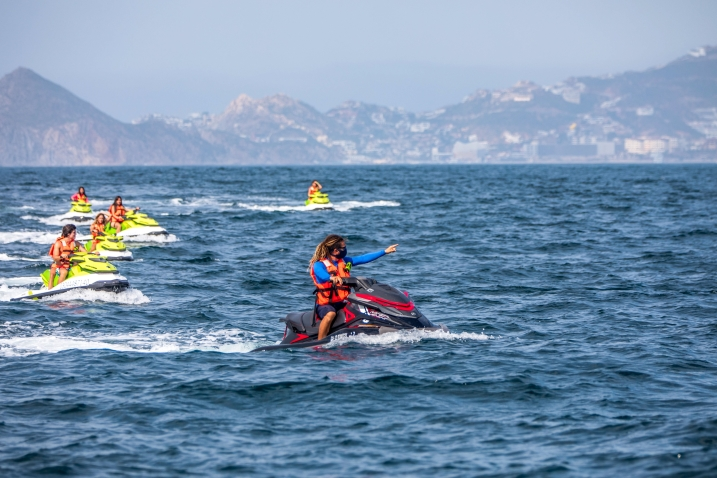 Tour Details
Approximate Duration: 3 Hours
Price: $179 USD per person
Stay refreshed with a selection of Refreshing Drinks and Purified Water throughout the adventure.
Relish in a Light Snack to keep you energized during your thrilling ride.
Towels and Life Jackets are provided for your comfort and safety.
Ride in style on our powerful Jet Skis, adding an extra thrill to your ocean escapade.
What to Bring
Dress comfortably for the adventure with appropriate Water Shoes, Swimsuit, and Comfortable Clothes.
Shield yourself from the sun with Biodegradable Sunscreen & Repellent, ensuring a worry-free experience.
Restrictions
Minimum age: 10 years old
Maximum combined weight of two passengers: 250 Kg / 551 Lbs
For safety reasons, cameras or GoPro devices are not permitted during the ride.
The Jet Ski driver must be 18 years or older and present a valid driver's license.
Optional Exemption of Payment for Damages: $35 USD fee per jet ski or leave open voucher.
Guests with previous injuries or fractures are not permitted to participate.
Alcohol consumption is strictly forbidden before the tour.
Expecting mothers may not participate in this adventure.
Speeding Across the Seas
Immerse yourself in an unforgettable Jet Ski Ocean Adventure, where thrill meets the beauty of the ocean. Book now to secure your spot and experience the rush of riding the waves in Los Cabos.