Glass Bottom Kayaking & Snorkeling Tour
Embark on a captivating Cabo San Lucas kayaking and snorkeling tour, where you'll be enchanted by the Land's End Arch - a renowned Baja Peninsula landmark nestled next to the stunning Lovers Beach, where the Pacific Ocean converges with the celestial emerald waters of the Sea of Cortez.
The famous Arch of Cabo San Lucas not only serves as an ideal habitat for marine birds and multicolored fish, but it is also home to a magnificent colony of majestic sea lions, making it a remarkable destination for nature enthusiasts and adventure seekers alike.
This is no ordinary Cabo San Lucas snorkeling tour! As you paddle across the waves in your Glass Bottom Kayak, you'll have the unique opportunity to witness the mesmerizing marine life from above the water's surface, offering an exceptional perspective of the underwater wonders. Immerse yourself in the tranquility of the sea and encounter some of Mexico's most extraordinary marine flora and fauna, set against the backdrop of Baja California Sur's picturesque landscape.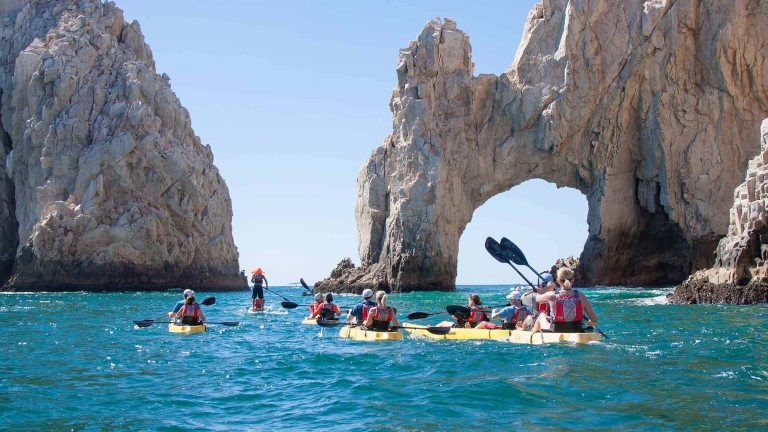 Tour Details
Approximate Duration: 2.5 hours
Departure Time: 7:30am - 1:00pm
Pricing
$80 USD per person
$108 USD per person for Private Tour (minimum 2 people)
Inclusions
All necessary equipment provided: Glass Bottom Kayak and Gear, Snorkel Gear, and Wetsuit (if needed).
Ensure your safety with a Life Jacket provided for each participant.
Be guided by our Bilingual Instructors, who will enrich your experience with their expertise.
Stay refreshed with complimentary Refreshments & Snacks during the tour.
What to Bring:
Bring your own Beach Towel and Beach Sandals for comfort and relaxation.
Protect your skin from the sun with Sunblock, and don't forget a stylish Sun Hat and Sunglasses.
Restrictions
Minimum age of 6 to partake in this delightful adventure.
Explore the Depths
Are you ready to embark on a remarkable Glass Bottom Kayaking & Snorkeling Tour in Cabo San Lucas? Reserve your spot now and immerse yourself in the breathtaking beauty of the ocean, revealing the hidden treasures that lie beneath the waves.