30 Ft. Karina
Your Gateway to an Unforgettable Fishing Adventure
Discover the epitome of luxury and performance with our 30 ft. Bertram Moppie Karina. A dream come true for our regular 31 ft. Bertram clients, this exceptional vessel combines everything you love about our standard Bertrams with the added comfort of a spacious cabin and AIR CONDITIONING! Step up to an elevated level of sophistication without compromising affordability.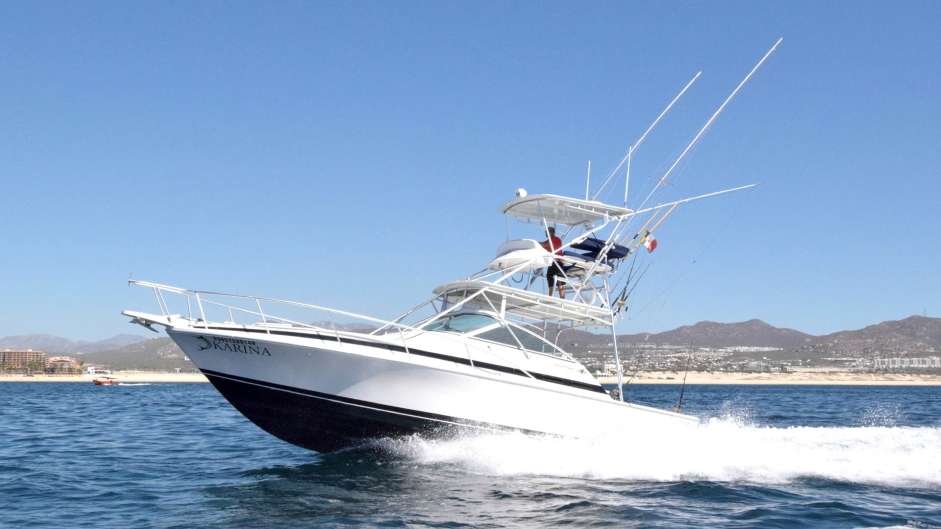 Key Features of the 30 Ft. Karina
Comfortable Cabin & Air Conditioning: Relax and unwind in the plush comfort of our well-appointed cabin, providing a sanctuary to escape the elements. Stay cool and refreshed with the convenience of onboard air conditioning, enhancing your overall fishing experience.
Impressive Design & Seaworthiness: With only 20 Bertram Moppies ever made, the Karina stands out as a rare gem sought after for its remarkable design and exceptional seaworthiness. This vessel is engineered to excel even in rough seas, ensuring a smooth and stable journey.
Optimal Fishing Set-Up: Equipped with a 12 ft. beam, the Karina is thoughtfully laid out for fishing excellence. Experience unparalleled angling performance with our top-notch fishing amenities.
Twin Cummins 315 HP Diesel Engines: Powered by twin Cummins 315 HP diesel engines, the Karina effortlessly cruises at 24 knots, with a thrilling top speed of 30 knots. Enjoy a powerful and efficient ride as you embark on your fishing adventure.
Unparalleled Luxury: From its sleek exterior to its well-appointed interior, the 30 FT. Karina exudes luxury and elegance. Elevate your fishing trip with a touch of opulence, making every moment on board an unforgettable one.

Reel in Adventure
At Sun Cabo Vacations, we pride ourselves on providing an unparalleled fishing experience. The 30 FT. Karina embodies the finest craftsmanship and engineering, ensuring your time on the water is nothing short of extraordinary.
Don't miss the opportunity to charter the 30 FT. Karina and indulge in a fishing adventure like no other. Join us on board and experience the best of luxury, performance, and the thrill of reeling in your ultimate catch!