28-Ft. Adriana
Your Ultimate Cruiser for a Memorable Fishing Adventure!
Step aboard the 28 FT. Adriana and experience the best layout for a boat of its size. This standard cruiser is thoughtfully designed to ensure your comfort and enjoyment throughout your fishing journey. With a recent refit in 2020 and a powerful New Cummins 315 Turbo engine, this vessel offers a top speed of 28 knots, ensuring you reach your fishing spots quickly and efficiently.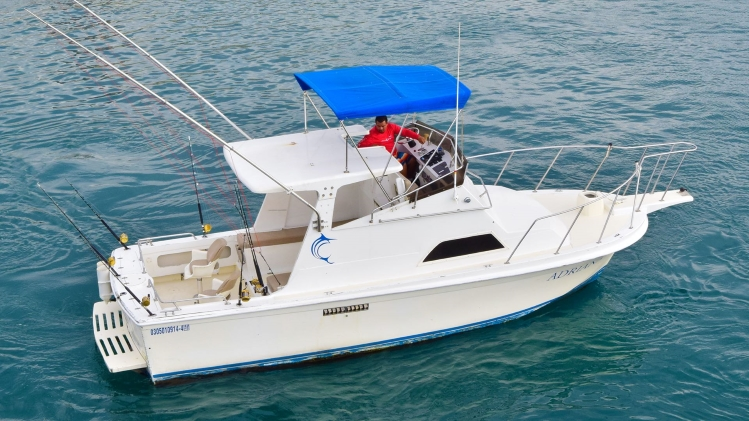 Features that make the Adriana stand out
Hard top shade provides ample protection from the sun, allowing you to fish in comfort.
Abundant outside seating, including 2 fighting chairs, perfect for reeling in those trophy catches.
Clean and private bathroom onboard, ensuring your convenience and privacy during the trip.
A well-designed cabin with seating and lying areas both inside and outside, providing relaxation spaces for all.
Live bait well to keep your bait fresh and lively, attracting even the most elusive fish.
Ship to shore radio for seamless communication and added safety.
Tuna Tubes for tournaments, catering to your competitive spirit and passion for fishing.
GPS-equipped to navigate with precision, ensuring you never miss out on the best fishing spots.
Premium Fishing Gear
Outfitted with Cofstor rods, paired with top-of-the-line Penn International reels, delivering unmatched performance and durability.
Shimano TLD 25 for casting, providing you with the perfect tool for accurate and controlled casting.
A wide selection of trolling lures, offering versatility to target different species and optimize your fishing experience.
Line options ranging from 30 to 80 lb. test, expertly chosen to match the fishing conditions and time of year.

Casting Lines, Catching Dreams
Embark on an unforgettable fishing expedition with the 28 FT. Adriana, equipped with the finest gear and amenities to elevate your fishing adventure. Whether you're an avid angler or a first-time enthusiast, our experienced crew is here to ensure you have an incredible time on the water. Book your fishing charter now and reel in the memories of a lifetime!