Cabo Pulmo Scuba Dive
Embark on a thrilling two-hour drive to the captivating East Cape, where you'll rendezvous with a local boat captain, ready to guide you to the most extraordinary dive locations in the area.
Prepare to be mesmerized as you dive into the underwater paradise of Cabo Pulmo National Park, renowned as one of the world's top dive sites. Explore El Islote, El Bajo, Los Cantiles, and a sunken tuna ship adorned with vibrant corals and exotic marine life. Immerse yourself in the abundance of ocean wonders, from graceful hammerheads and giant manta rays to majestic sea turtles and captivating schools of jacks.
Embrace the adventure as this colorful aquatic universe takes your breath away. After an exhilarating day underwater, savor the flavors of Baja with a delectable lunch at a local restaurant.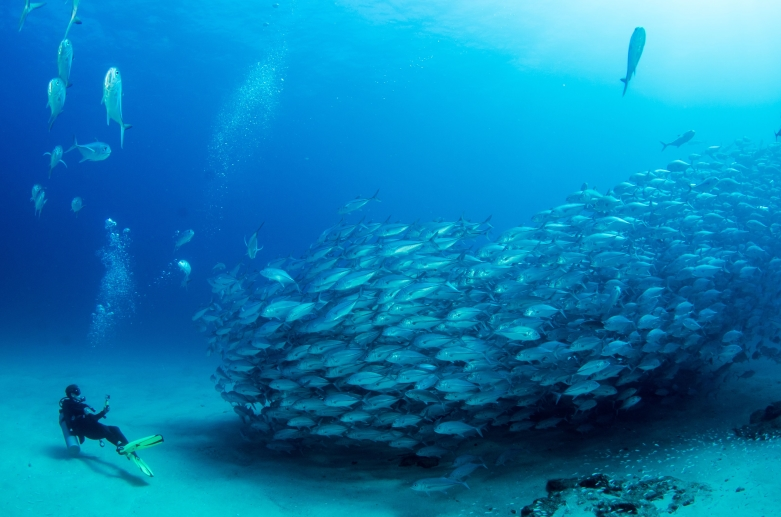 Tour Details
Approximate Duration: 8 hours
Price: $279 USD
Inclusions
Entrance Fee to Cabo Pulmo National Park and Scuba Diving Equipment Fee: $40 USD per person
Round Trip Transportation: $10 USD per person
What to Bring
Don't forget to bring money for the Entrance Fee to Cabo Pulmo National Park and Scuba Diving Equipment Fee.
Dress in your Swimsuit and bring a Change of Clothes for a comfortable post-dive experience.
Protect yourself and the environment with Biodegradable Sunscreen.
Restrictions
Minimum age: 12 years old
Maximum weight: 265 lbs. (120 kg)
Expecting mothers are restricted from diving.
All divers must provide proof of certification (valid Diver's ID).
At least one immersion in the 12 months prior to diving with Cabo Adventures is required.
Based on PADI's flying after diving recommendations, certified divers shouldn't fly within 18 hours after two or more dives in a day.
Guests with respiratory, cardiovascular, or ear problems are restricted from diving.
All divers must be in good mental and physical condition for diving.
Avoid being under the influence of alcohol or drugs while diving.
A signed acknowledgment of risk will be required before participation.
All divers will be asked to complete a medical clearance questionnaire.
This tour is exclusively for Certified Divers, and open water certification must be provided.
Explore the Depths
Embark on a scuba diving adventure like no other, and witness the captivating beauty of Cabo Pulmo's underwater world. Book now to secure your spot for an experience that will leave you in awe of the ocean's treasures.