Whale Shark Encounter
Embark on an ecological adventure with a scenic 2-hour drive to La Paz, offering a back-door tour of the stunning Baja California Sur. Prepare for an awe-inspiring experience as you encounter one of the world's most majestic creatures - the Whale Sharks. Join us for an unforgettable swim alongside these "gentle giants of the sea," an encounter unlike any other!
Dive into the crystal-clear waters and snorkel beside these massive Whale Sharks, marveling at the beauty of nature unfolding before your eyes. Keep a lookout for playful dolphins, graceful rays, and even the occasional whale, as this journey promises a parade of exciting sea life. With our small group format, you'll have an intimate encounter with these incredible creatures, creating memories that will stay with you forever. Savor the flavors of Baja with a delicious "Baja style" lunch served at a local restaurant.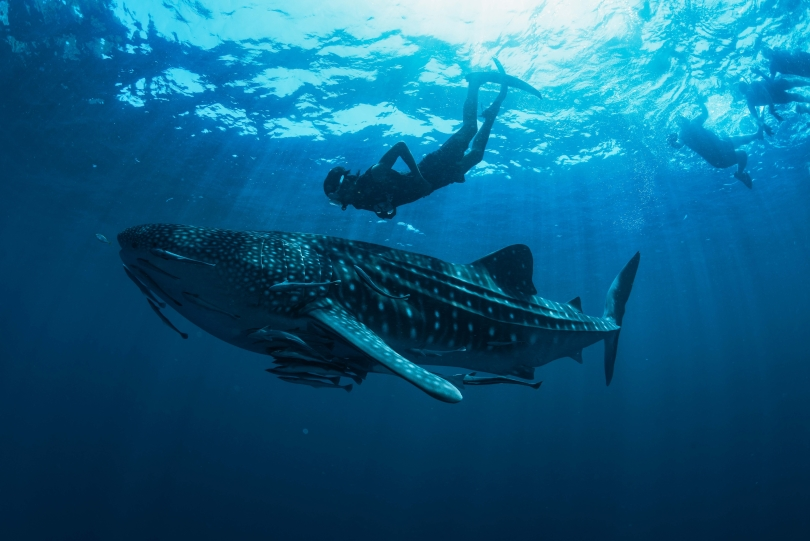 Tour Details
Approximate Duration: 10 hours
Price: $259 USD per Adult, $219 USD per Child (Ages 8-11)
Private Transportation: Inquire for pricing
Inclusions
Snorkel Equipment, Wetsuit, and Towels provided for your comfort during the encounter.
Recharge with a Snack to keep your energy up during this thrilling adventure.
Savor a Full "Baja style" Lunch, along with Fresh Juices and Flavored Waters, served at a local restaurant.
Our Professional Bilingual Guides will accompany you throughout the journey, ensuring a seamless and enjoyable experience.
Relax in comfort with Round Trip Transportation in an air-conditioned van from Los Cabos to La Paz (approximately 2 hours each way).
What to Bring
Wear your Swimwear for the ultimate aquatic experience.
Protect yourself and the marine environment with Biodegradable Sunscreen.
Wear Non-slip Shoes for a secure footing during your swim.
Bring a Change of Clothes to stay fresh after your encounter.
A Light Jacket or Sweater is recommended for your comfort.
Restrictions
Minimum age: 8 years old
Fairly vigorous swimming is required for this adventure.
Previous snorkeling experience is recommended to fully enjoy the encounter.
Per maritime regulations, life jackets must be worn at all times for your safety.
For the safety of our guests, those with respiratory problems, limited mobility, neck or back issues, and expectant mothers may not participate.
Please note that we monitor weather and sea conditions daily. In the interest of safety, we reserve the right to cancel a tour without prior notice.
Swim with Giants
Immerse yourself in the wonder of a lifetime with our Whale Shark Encounter, an experience that will touch your heart and soul. Book now to secure your spot and join us in swimming alongside the gentle giants of the sea.