UTV Off-Road Adventure
Discover the thrill and power of our cutting-edge four-seater Polaris UTV vehicles, designed to conquer the rugged terrain of Baja's untouched landscapes. Embark on an exhilarating journey through breathtaking canyon trails and mountainous vistas, immersing yourself in the wonders of unique flora and fauna, all under the guidance of our expert tour guides.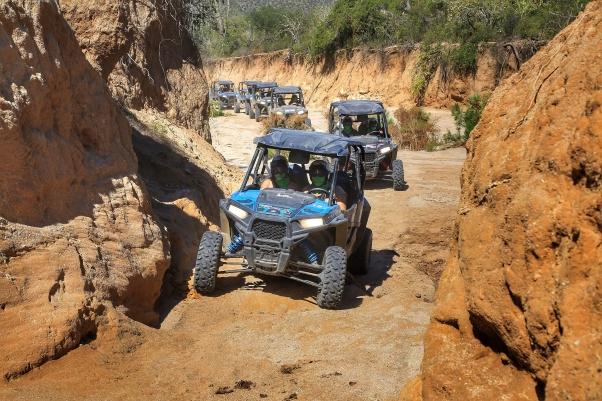 Tour Details
Approximate Duration: 4 Hours
Price
$199 USD per Person (single rider)
$299 USD per Person (double riders)
$349 USD per Person (triple riders)
$399 USD per Person (quadruple riders)
Insurance Fee: $45 USD fee per vehicle
Tour Highlights
Experience the untouched beauty of Baja's canyons and mountains in our state-of-the-art Polaris UTVs.
Conclude your thrilling adventure with a sumptuous traditional Mexican buffet at our beachside restaurant, just a few meters from the waves breaking on the Pacific shore.
Enjoy a delightful Mezcal & Tequila Tasting, immersing yourself in the rich flavors of Mexico's renowned spirits.
Immerse in eco-friendly activities during a one-hour visit to EcoFarm, where sustainability meets fun.
Safety First
At our top priority is your safety, which is why we provide the best full-body protective gear for an adventure free from worries.
What to Bring
Money for the entrance fee at Tierra Sagrada and the UTV insurance fee.
Comfortable athletic shoes for a steady ride.
Long pants for added protection against rugged terrain.
Biodegradable sunscreen and repellent to protect yourself and the environment.
Restrictions
Minimum age: 8 years old
Maximum weight: 265 lbs. / 120 kgs
Minimum height: 4 ft / 1.20 m
For safety reasons, the use of cell phones, cameras, or GoPro is not permitted during the ride.
UTV drivers must be 18 years or older and present a valid driver's license. Driver's permits are not accepted.
For safety reasons, individuals with back or neck, heart, balance, or dizziness conditions are restricted from this tour.
Expecting mothers are not permitted to join this adventure.
Coastal Exploration on Four Wheels
Unleash your adventurous spirit and feel the thrill of conquering Baja's wild landscapes on our UTV Off-Road Adventure. Perfect for thrill-seekers and nature enthusiasts alike, this unforgettable journey promises memories that will last a lifetime. Book now and experience the power of Baja's unspoiled wilderness!