Surfing Sanjo
Ride the waves and master the art of surfing right here in the beautiful San Jose! Our expertly crafted lessons are designed to instill the core surfing fundamentals in surfers of all ages (5+) and skill levels. Whether you're a beginner or an intermediate surfer seeking to elevate your skills, Surfing Sanjo is your ticket to an unforgettable surfing experience.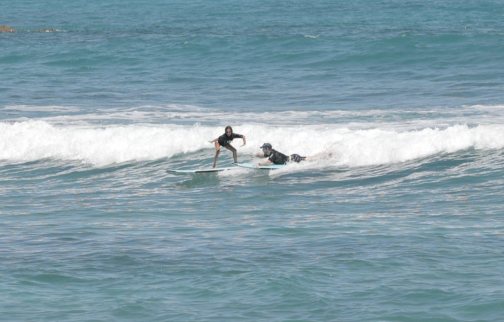 Activity Details
Price: $175 USD per Person (16% IVA included)
Duration: 2 Hours Water Time (Maximum 4 people per lesson)
What's Included
Our experienced surf guide will lead you through the intricacies of surfing, ensuring you get the best learning experience.
Choose from our wide selection of surfboards, tailored to match your skill level and preferences.
Protect your skin from the sun with complimentary sunscreen provided during the lesson.
Stay hydrated and refreshed with complimentary bottled waters.
What to Bring
Wear your swimsuit and be ready to ride the waves like a pro.
Bring a change of clothes to stay comfortable after your exhilarating surf session.
Embarking on a Beginner's Surfing Journey
Our dedicated team is committed to creating a safe and supportive environment for surfers of all levels to thrive. Whether you're catching your first wave or fine-tuning your techniques, our Surfing Sanjo lessons will empower you to confidently ride the waves and experience the thrill of surfing like never before.
Join us and discover the joy of gliding on the shimmering waves of San Jose's waters. Enroll now and embark on an incredible surfing journey that will leave you with lifelong memories and a newfound passion for riding the waves.