Snorkel & Sea Adventure
Embark on an exhilarating Snorkel & Sea Adventure, cruising along the breathtaking Arch, Lover's Beach, the captivating sea lion colony, and the iconic Land's End in our thrilling speedboats. Dive into the crystal-clear waters to snorkel or power snorkel alongside mesmerizing rock formations in the stunning bays of Cabo, where a vibrant world of brilliantly colored tropical fish and marine life awaits.
Explore the enchanting landmarks and rock formations of Cabo San Lucas on your paddleboard and kayak, adding an extra dimension of excitement to your adventure. Delight in the flavors of Baja with a delectable Baja-style ceviche and refreshing drinks, completing your unforgettable journey. During the winter months, be enchanted by the graceful presence of humpback whales in the ocean.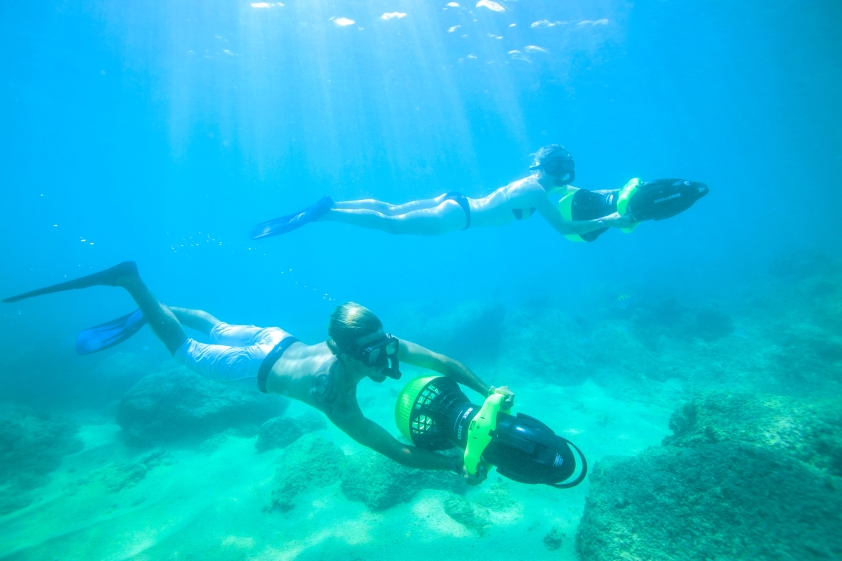 Tour Details
Approximate Duration: 3 Hours
Price: $99 USD per Adult, $79 USD per Child (Ages 5-11)
Transportation: $10 USD per Adult, $5 USD per Child
Inclusions
Stay refreshed with a selection of Refreshing Drinks and a Snack, ensuring you're energized throughout the adventure.
Towels and all necessary Equipment, including snorkel, mask, fins, SUP (Stand up paddle board), Kayak, and Sea Scooter, are provided for your convenience.
During the winter months, Wetsuits are available to keep you warm and comfortable.
Wear your Swimsuit for your aquatic escapades.
Wear Non-slip Shoes to ensure a secure footing during your adventure.
Protect yourself and the environment with Biodegradable Sunscreen, a must for responsible snorkeling.
Bring a Change of Clothes for a fresh post-adventure experience.
Restrictions
Minimum age: 5 years old
Maximum weight: 265 lbs. (120 kg)
Child prices apply to children ages 5 to 11.
For safety reasons, expecting mothers and individuals with back or neck problems may
not participate in this tour.
Explore the Depths
Join us for a Snorkel & Sea Adventure, where the wonders of Cabo San Lucas await. Book now to secure your spot and immerse yourself in the magic of the ocean.