Outdoor Zipline Adventure
Prepare for an adrenaline-pumping escapade like no other as you embark on our exhilarating Outdoor Zipline Adventure. Traverse a series of breathtaking zip lines, including the longest and fastest line in Baja, the incredible "Superman," stretching over 4,000 feet! This adventure is suitable for the whole family, promising an experience that will free your emotions and leave you with unforgettable memories.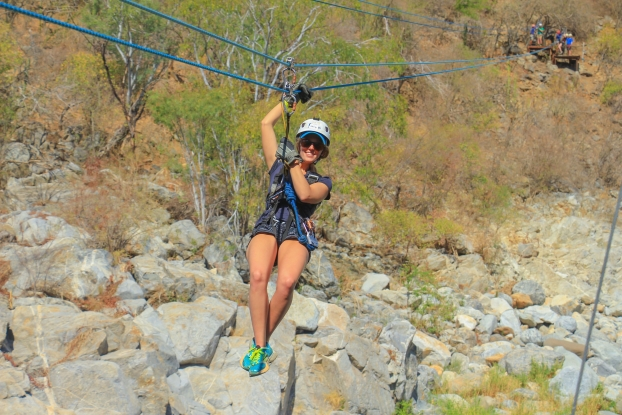 Tour Details
Approximate Duration: 3.5 Hours
Price: $129 USD per Adult, $99 USD per Child (Ages 8-11)
Collision/Damage Waiver Insurance Fee: $25 USD (charged at check-in)
Tour Highlights
Experience the thrill of rappelling down sheer rock walls, crossing the commando bridge, and soaring through the air in both tandem and upside-down mode.
Take a leap of faith on our "Pendulum" attraction, swinging high over the canyon before embarking on a 40 ft. free fall jump.
Rest assured as you enjoy the safest zip lines in Cabo, equipped with a double line safety mechanism for your peace of mind.
Inclusions
Professional gear to ensure your safety and comfort during the adventure.
Indulge in delicious handmade quesadillas, along with a salsa and salad bar.
Stay refreshed with complimentary beer and flavored water throughout the tour.
What to Bring
Money for the entrance fee at Outdoor Zipline Adventure (not included in tour price).
Wear long shorts or pants and clothes that can withstand the desert's dusty conditions. Opt for comfortable tennis or hiking shoes suitable for outdoor activities.
Protect yourself from insects with reliable insect repellent.
Apply sunscreen to shield yourself from the sun's rays.
Restrictions
Minimum age: 8 years old
Minimum height: 4 ft (1.20 m)
Maximum weight: 265 lbs. (120 Kg)
For safety reasons, expecting mothers, and individuals with back, neck, heart, balance, or dizziness conditions are restricted from participating.
Cameras of all types, including GoPro and hands-free cameras, are not allowed during the adventure.
UTV drivers must be 18 years or older and present a valid driver's license.
Coastal Views from Above
Immerse yourself in the thrill of our Outdoor Zipline Adventure, an experience designed to challenge and exhilarate while showcasing the stunning beauty of Baja's landscape. Book now to secure your spot and get ready for an adventure of a lifetime!