Outback & Camel Safari
Embark on an extraordinary adventure as you traverse the enchanting Baja desert perched atop a delightful camel. Journey alongside the stunning Cabo desert and the majestic Pacific Ocean, relishing in the breathtaking sights, the invigorating sea breeze, and the mesmerizing crashing waves on this one-of-a-kind eco-tour. Make a special stop to meet our amiable camels and capture unforgettable close-up photos.
Immerse yourself in the natural wonders and cultural treasures of Baja with the guidance of our expert tour guides during an enlightening nature walk. Indulge in the flavors of Mexico with a delectable, multi-course Mexican lunch and a delightful Tequila tasting experience. As an added bonus, this tour also includes an hour of eco-friendly activities at the EcoFarm!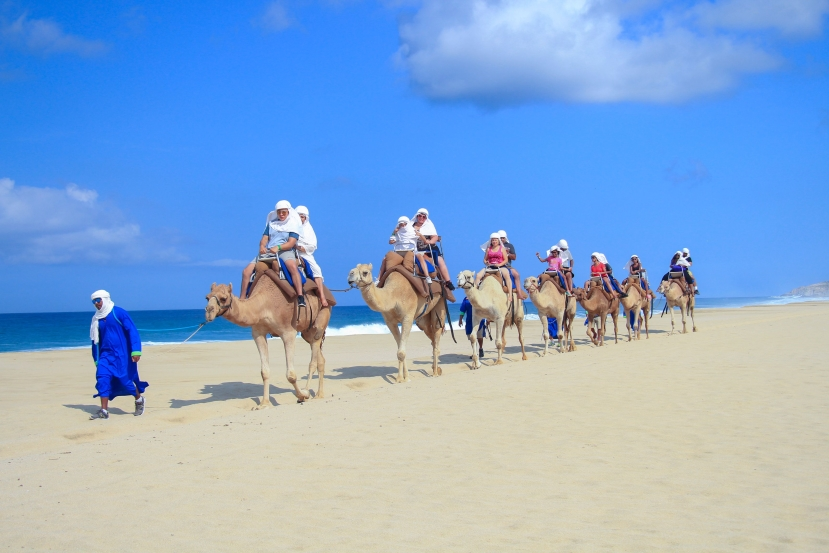 Tour Details
Approximate Duration: 4 Hours
Price: $109 USD per Adult, $79 USD per Child (Ages 5-11)
*Private Tour option available; please inquire for pricing.
Tour Highlights
Enjoy a traditional Mexican buffet lunch at the captivating Tierra Sagrada Ranch.
Stay refreshed with complimentary beer and fruit-infused water during the tour.
Engage in a guided nature walk to uncover the secrets of the region's flora and fauna.
Experience the charm of EcoFarm during a one-hour visit, promoting sustainable practices.
Delight in a Tequila and Mezcal Tasting, savoring the essence of Mexico's famed spirits.
Learn the art of tortilla-making in an engaging and interactive class.
What to Bring
Money for the entrance fee at Tierra Sagrada
Comfortable attire suitable for desert exploration
Sturdy athletic shoes for comfortable walking
Biodegradable sunscreen & insect repellent to protect the environment
Restrictions
Minimum age requirement: 5 years old
Maximum weight limit: 265 lbs. / 120 kgs
Use of cameras, cell phones, and GoPro is restricted during the camel ride for safety reasons.
Not recommended for guests with back or neck problems.
Expecting mothers are advised not to participate in this tour for safety reasons.
Desert Wonders and Camel Treks Await
Join us on this captivating Outback & Camel Safari, an adventure that blends nature, culture, and unforgettable moments into one unforgettable experience! Book now and create lasting memories with your loved ones in the heart of Baja's remarkable beauty.