Jeep Tour - Cabo Pulmo & Snorkeling
Get ready for an exhilarating off-road adventure as we embark on our Jeep Tour to the breathtaking Cabo Pulmo National Park. We'll explore rugged mountain trails and make a stop at the charming fishing village of Pesquero, immersing ourselves in the local culture.
Upon entering the Cabo Pulmo National Park, we'll recharge with a delightful snack break at Playa de Arbolitos, preparing for an unforgettable snorkeling experience. Dive into the crystal-clear waters and marvel at the unique coral reefs, teeming with an abundance of mesmerizing sea life.
After our underwater escapade, we'll savor a mouthwatering lunch at a local restaurant, delighting in the flavors of the region. As we head back, be captivated by serene views of majestic mountains and vast deserts, making our return journey just as enchanting.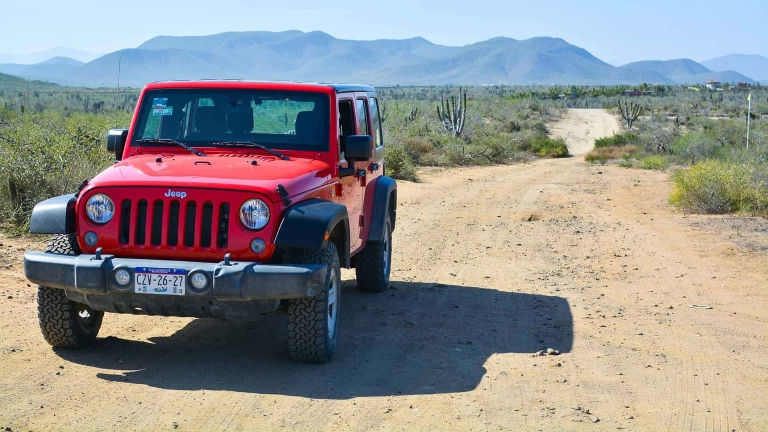 Tour Details
Approximate Duration: 6.5 hours
Departure Time: 9:00 am
$515 USD per Jeep (up to 3 people)
Inclusions
Navigate the rugged terrains in a 4x4 Jeep, offering an adrenaline-pumping experience.
Stay refreshed and energized with complimentary refreshments and snacks.
Indulge in a delectable lunch at a local restaurant, savoring the region's culinary delights.
Be guided by our expert bilingual guide and driver, enriching your journey with their knowledge.
Enjoy seamless access to the national park with the included entrance fee.
Dive into the underwater world with the provided snorkeling gear, allowing you to explore the vibrant marine life.
What to Bring
Protect your skin with Sunscreen, an essential for a day under the sun.
Don your swimsuit and have a towel ready for an immersive snorkeling experience.
opt for sturdy walking shoes (no sandals) to ensure comfort and safety during your exploration.
Wear comfortable clothes, allowing you to move freely and fully enjoy the adventure.
If you wish to take the wheel, don't forget to bring your valid driver's license.
Restrictions
Please note that the tour is not wheelchair accessible.
For safety reasons, expectant mothers, individuals with back problems, and serious medical conditions are restricted from participating.
Infant seats are available for our young adventurers.
The minimum age for participation is 6 years, and the minimum age to drive is 18 years.
Onshore Thrills in Cabo
Experience the wonders of Cabo Pulmo and snorkeling with our Jeep Tour. Book your adventure now, and immerse yourself in the natural beauty of this extraordinary destination.