Horseback Riding - Corredor
Unwind and immerse yourself in a tranquil experience as you embark on a delightful horseback ride from Rancho Amigos. Let the gentle breeze caress your face and the soothing sound of the Mar de Cortes waves serenade your senses. This enchanting tour also takes you to a breathtaking beach adorned with spectacular rock formations, a masterpiece shaped by thousands of years of natural erosion. Capture these awe-inspiring moments with your camera, creating a cherished album of memories that will last a lifetime. Don't miss this unforgettable adventure!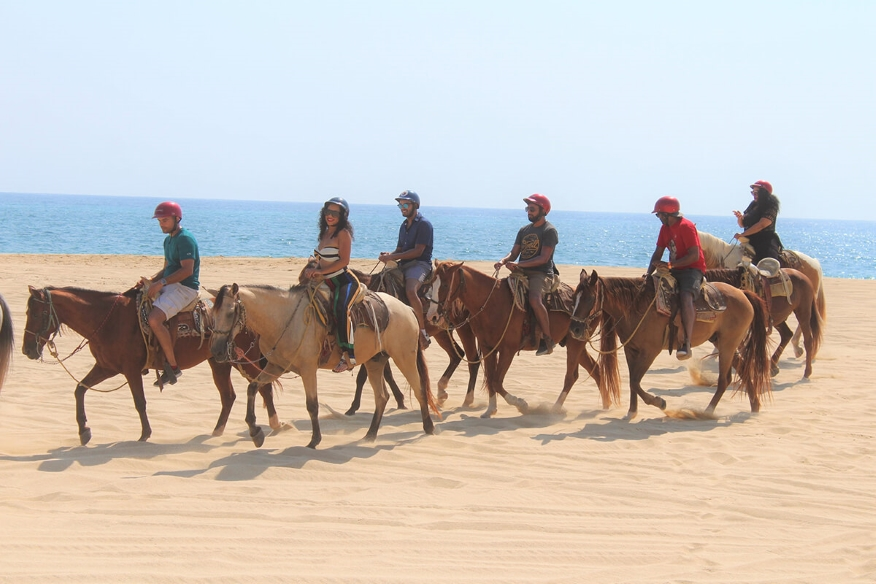 Approximate Duration: 1 Hour
Price: $120 USD per Person
Inclusions
Relax and enjoy the convenience of Round Trip Transportation, ensuring a stress-free journey to and from the ranch.
Stay refreshed with Bottled Water, quenching your thirst throughout the ride.
Our bilingual tour guide (fluent in English and Spanish) will accompany you, sharing insights and stories along the way.
What to Bring
Slip on comfortable Running Shoes for a pleasurable horseback experience.
Opt for long pants to ensure comfort during your ride.
Safeguard your skin with reliable Sunscreen, allowing you to relish the moment without worry.
During the winter season, bring a light Jacket or Sweater to stay cozy and warm.
Sunset Trails and Beachfront Gallops

Join us for an hour of pure bliss as you indulge in the tranquility of horseback riding at Rancho Amigos. Bask in the beauty of nature's artistic rock formations, and capture these precious moments forever. Book now and allow us to curate an unforgettable experience tailored to your joy and satisfaction.