Fox Canyon Group Hiking Tour
Escape to a breathtaking oasis nestled in the heart of the desert, just a one-hour drive from Fox Canyon. Prepare to be enchanted by the lush vegetation, a majestic mountain, and a serene river cascading into a picturesque waterfall. Our exhilarating journey begins with a downhill hike, leading you to a natural pool nestled at the base of the magnificent waterfall, where you can take a refreshing swim.
Guides will accompany you on a scenic and informative walk, unveiling the secrets of magnificent rock formations and inviting freshwater pools. After immersing yourself in nature's wonders, savor a delicious lunch at a charming local restaurant, surrounded by awe-inspiring views.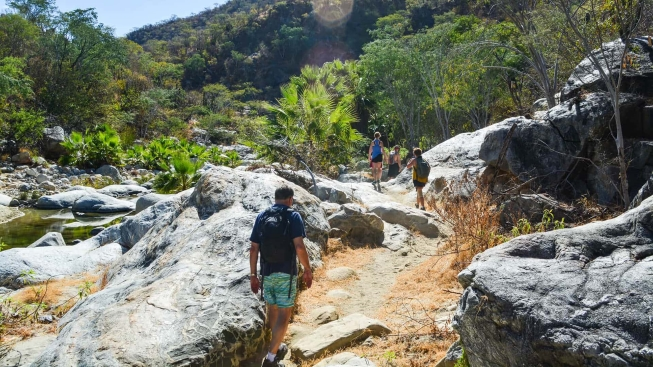 Tour Details
Approximate Duration: 6.5 hours
Departure Time: 7:30am - 11:00am
Pricing
$145 USD per person
$195 USD per person for Private Tour (minimum 2 people)
Inclusions
Park entrance fee, ensuring seamless access to the oasis.
Stay refreshed with complimentary refreshments and snacks throughout the tour.
Savor a delightful lunch at a local restaurant, while enjoying the stunning vistas.
Experience worry-free travel with round trip transportation provided.
Be guided by our knowledgeable bilingual guide, enhancing your journey with insightful commentary.
Carry your essentials with ease using provided backpacks.
What to Bring
Protect your skin with Sunscreen during your outdoor adventure.
Come prepared with your swimsuit and towel for a refreshing dip.
Wear comfortable walking shoes and suitable, breathable clothes for the hike.
Restrictions
Participants must be a minimum of 6 years of age to join the hiking tour.
Exploring Cabo's Beauty on Foot
Are you ready to explore the hidden oasis of Fox Canyon? Book your Group Hiking Tour now, and be captivated by the pristine beauty of this desert gem.