Electric Bike Beach Adventure
Experience the ultimate fun and excitement on our state-of-the-art electric bikes, featuring specialized fat tires perfectly engineered for sandy beaches and rugged mountain trails. This eco-friendly tour promises a one-of-a-kind adventure, allowing you to effortlessly ride along the mesmerizing Pacific Ocean coastline and through the captivating Baja desert. Let the electric motor do the hard work for you as our specialty bikes, equipped with wide tires, conquer all terrains with ease.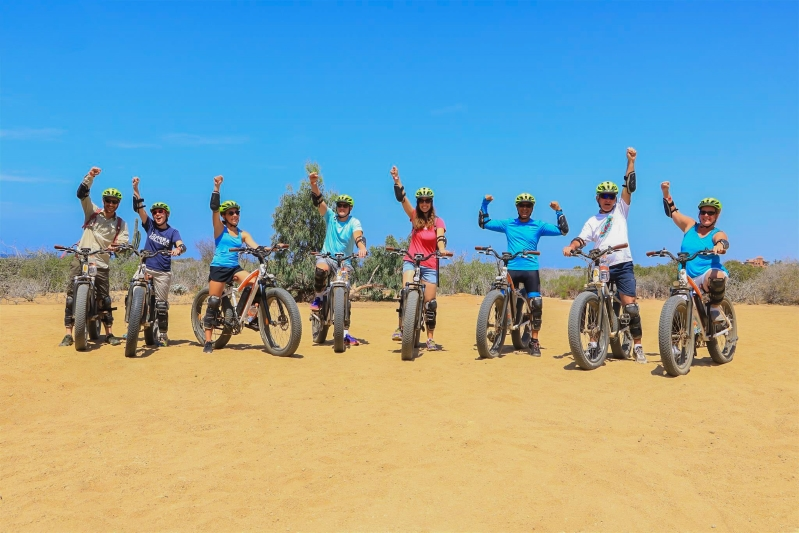 Tour Details
Approximate Duration: 4 Hours
Price: $109 USD per Adult, $79 USD per Child (Ages 8-11)
Insurance Fee: $10 USD per electric bike
Tour Highlights
Explore the breathtaking Baja desert, unveiling spectacular views of mountains, ocean, and regional flora and fauna, all in one extraordinary journey.
Ride along the soft-sand beach, with the glistening Pacific Ocean at your side, creating unforgettable moments of joy and wonder.
Conclude your adventure with a sumptuous Mexican buffet and refreshing margaritas, all while relishing an incredible ocean view.
Immerse in eco-friendly activities during a one-hour visit to EcoFarm, promoting sustainable practices for a greener world.
Inclusions
Rad Power Electric Fat Bikes, specially designed for your comfort and convenience.
Helmets, knee and elbow pads for your safety during the ride.
A traditional Mexican buffet lunch at the captivating Tierra Sagrada Ranch.
Stay refreshed with complimentary beer and fruit-infused water during the tour.
Delight in a Margarita-making class, adding a dash of fun to your adventure.
Savor the essence of Mexico with a Mezcal & Tequila Tasting.
Engage in an hour of eco-friendly activities at EcoFarm, connecting with nature's beauty.
What to Bring
Money for the entrance fee at Tierra Sagrada and the electric bike insurance fee.
Closed-toe shoes (mandatory) and clothes that can get dirty, ensuring comfort and safety.
A sense of excitement and adventure, ready to explore the stunning landscapes of Baja.
Restrictions
Minimum age: 8 years old
Minimum height: 5 ft (1.5 m)
Maximum weight: 265 lbs. (120 kg)
For safety reasons, cameras are not permitted during the tour.
Guests must be fully mobile, in good physical condition, and know how to ride a bike.
Not suitable for expectant mothers and guests with back, neck, or respiratory problems.
Pedal-Powered Seaside Discoveries Await
Unleash the thrill-seeker within and embark on our Electric Bike Beach Adventure, a journey of wonder, natural beauty, and carefree riding. Book now to secure your spot and get ready to create unforgettable memories in the heart of Baja's picturesque landscapes.